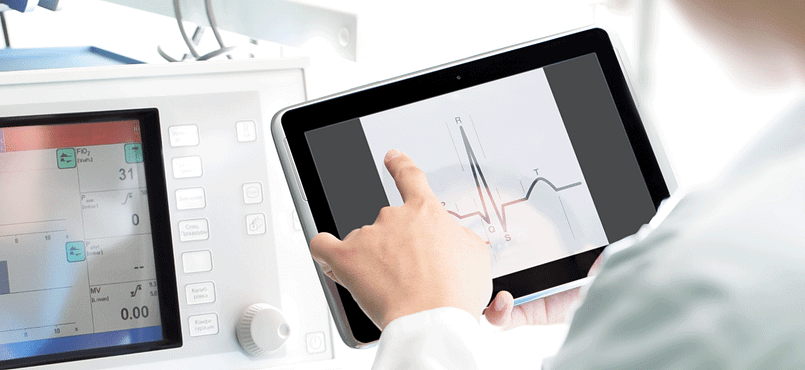 Case Study for NHS Leicestershire Health Informatics Service
What was the issue or requirement?
As a response to the National Information Board 'Personalised health and care 2020 – A frame work for action' document, alongside Leicestershire Partnership NHS Trust (LPT)'s own digital strategic plan, the Trust have developed the Wellbeing Account alongside Leicestershire Health
Informatics, to provide interoperability between the LLR Health and Social Care landscape and give the service user a single point of access to both their own clinical data (where appropriate) and a wealth of supporting information and mobile applications tailored to their needs.

The wellbeing account is an innovative new digital web and mobile app offering from LPT. Designed to give service users greater control over their healthcare by enabling registered users to securely view and manage aspects of their health record through a personalised portal, such as
viewing and rescheduling upcoming appointments and going paperless for receipt of correspondence. Built on a modular platform, service users can tailor their digital experience around their health and wellbeing needs by enabling portal functionality in a 'pick and mix' approach of apps. A rich roadmap of features and functionality is being managed to continually
improve the LPT digital offering. Through implementation of the wellbeing account, LPT are embracing digital service user interactions, radically redesigning the delivery of services and providing greater efficiency in delivery of care.
The wellbeing account is expected to deliver significant benefits linked to service user experience,
deliver of efficiency savings by reducing appointment DNA's and reducing costs associated with paper delivery of correspondence. Availability of tailored health and wellbeing information and guidance will contribute towards greater self-management of health needs for service users.
Continual service user and staff engagement, has helped to shape the digital product offering, ensuring needs are met and future development is focused on delivery of features that will deliver the greatest benefits for both LPT service users and the trust as it further embeds digital
interactions into delivery of its services.
Design and Development
The Wellbeing Portal is designed to be responsive and bring together a single view of an individual's key data across a number of service providers. Giving the individual the ability to access relevant tools, applications and data, as well as confidential content around their health, wellbeing and social care. The Wellbeing Portal will provide information and tools to allow the user to easily self-navigate and access verified services and their related records. Focus is on the development of an overarching Wellbeing Portal framework and a number of light weight widgets and applications which can be embedded within and accessed as standalone.

Through the use of APIs, the Wellbeing Portal will also have the most up to date view of a service user's data, needs and the latest available applications to download. Clinical systems are now being asked to create open course APIs to allow systems such as this to access data in real time. However LHIS also have the functionality to create bespoke APIs for other requirements such as the transfer of data from charitable or 3rd party organisations within the healthcare community.
Information governance and Security.
LHIS IT Assurance team have been consulted to ensure every aspect of the portal is secure and meets all industry standards fo data security and information governance. We have also ensured the portal conform to site accessibility standards and implement control over how additional site content is maintained by the Wellbeing program administrating group.
We have decide on 4 levels of identity proofing are provided, each of which provides an increasing level of confidence that the applicant's claimed identity is their real identity
• Level of Assurance 1 (LOA1) (This level of assurance is suitable for publicly accessible information where the registration is for the convenience of the returning user)
• Level of Assurance 2 (LOA2) (The applicant claims an identity with evidence to support the claim, This level of assurance is suitable for information which is currently shared with a service user by post)
• Level of Assurance 3 (LOA3) (The applicant claims an identity and provides physical proof to support the claim. This level of assurance is required for unrestricted access to the user's personal data offered through the Wellbeing Account)
• Level of Assurance 4 (LOA4) (Additional steps are taken to prove an identity, such as through biometrics, this level of identity is usually only required for positions of trust or where a compromise could represent a danger to life)
Using the expertise and experience of LHIS' specialist teams to bring our ambition to life; we are excited to see the transformation this product will bring to the experience of our service users.
Case Study written with:
Jimmy Endicott
Digital Development Manager
Leicestershire NHS Partnership Trust