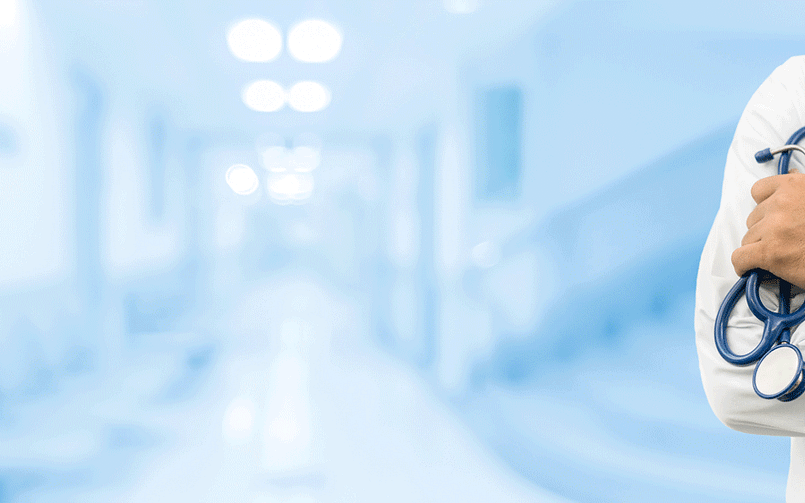 Case Study for NHS Leicestershire Health Informatics Service – Q3 2017
What was the issue or requirement?
In this current healthcare climate, we as Commissioners of healthcare are constantly looking for ways to get 'more value for money'. Delivering a quality, timely and innovative healthcare service to our service users is of at upmost importance to us. So there was a requirement to work with our existing IT partners to look at any efficiencies, cost savings and innovations to maintain our services, meet our budget and continue to move forward with national digital strategy.
Approaching contract renewal, the three CCG's (East Leicestershire and Rutland, West Leicestershire and Leicester City CCG) needed to decide whether to stay with our existing GP IT supplier, NHS Leicestershire Health Informatics Service (LHIS), or look to alternative suppliers via the procurement routes available to us, such as the Lead Provider Framework to market test and potentially re-procure.
As we have a legally supported risk and benefit sharing stakeholder model within Leicestershire, with LHIS, this precludes us from having to re-procure via LPF, if the appropriate due diligence and assurance has been sought. As part of the stakeholder agreement LHIS also support a large mental health and community Trust of whom are also involved in the decision making, risk and benefit sharing process which means our IT service provision is provided at pass through cost but also that efficiencies are drawn upon from collaborative working across Leicester, Leicestershire and Rutland (LLR) and through economies of scale
How did you come to your decision?
We decided to focus our decision making criteria into 3 core areas using evidence based outcomes to support that decision:
1. Key Performance Indications (KPIs) and metrics
2. Innovation offered
3. Added value offered
Key Performance Indications (KPIs) and metrics
The CCG's overall are very pleased with how LHIS have performed against their agreed SLA over the last few years. Surveying our GP practices and using the governance arrangements we have in place, we reviewed some of the key qualitative SLA metrics that are provided by LHIS on a monthly basis in the form of SLA KPI packs, such as:
We know what is important to our GPs: time. The current Priority One response rates from LHIS (where an IT issue has a direct impact on patient care) is on average, around 2 hours whereas the GPSOC / GP IT requirement is for support providers to respond within 3 hours, which when considering LHIS respond to over 150,000 support calls in a year
The fact that their call waiting times, abandon rates, breaches and abandon rates are so well within tolerance means our practices are getting through to an IT support person, efficiently and effectively and when they need to speak to someone, not having to wait in a queue or having IT issues for hours on end.
LHIS have their service set up in such a way, that each locality / CCG have teams based around their localities, meaning the engineers have developed a great relationship with our practice staff, are known around the patch, which we think adds value to the service.
Each month, each of our CCG's IT leads receive a reporting pack, this includes: customer satisfaction survey results, complaints logged, an SLA performance report, telephone statistics, GP IT training reports, volumes and breaches on user accounts created & Registration Authority smartcard activity, we have Project Highlight papers and updates, asset lists and the number of serious incidents or investigations underway (from the user base). One recent addition to the SLA reporting pack, which was requested by the CCG's was for any negative responses to the LHIS customer satisfaction survey (survey is sent out on resolution of all calls) are investigated and followed up with the practice staff who provided negative feedback, by the Client Relationship Team at LHIS and either resolved, escalated or improvement plans put into place to prevent the service performance issue happening again. LHIS staff are ITIL trained and what was apparent in our benchmarking work was that LHIS perform very well in continual service improvement ensuring that their service is constantly being refined based on customer feedback and industry trend.
2. Innovation offered
We wanted to ensure that our IT provider for the challenging times we have ahead enabled us to look to the future and transform the way in which we use digital technologies, that they offered modern and forward thinking products and services to our GP and practice staff but also to think about technologies which could positively influence the way in which our clinicians interact with our service users. It was important that we found strong robust and evidence based examples of this as part of our decision making process. These included:

Pathway and Referral Implementation SysteM (PRISM)
The PRISM product was developed by LHIS alongside LLR GPs to support a quality referral process and is now fully supported by the CCG's as a full pathway configuration service provided by LHIS. PRISM compliments and works alongside the Clinical Systems we use, being SystmOne and EMISweb to create consistent and accurate referrals for onward providers of care.
This year we mandated PRISM in conjunction with eRS for 2ww referrals. 96.3% of LLR referrals are now received through PRISM (started at 14%).

Benefits included:
• Reduction in bounce backs
• Reduction in delay for patients receiving their appointment
• Reduction In the time the 2ww office have to phone practices to chase
• Reduction in secretary/receptionist time chasing up missing bloods from
pathways
• Embedded guidelines (NICE, Macmillan) in PRISM help GPs

Highlight: One of our GP practices has since chosen not to buy any new dictation equipment and saved £6,000 for the practice, as the GPs no longer need to dictate their referral letters.
Electronic record sharing: Sharing critical information with services.
We have a commitment to constantly improve our data sharing and data quality. A need was recognised to ensure everyone involved in a patients care had access to their information when they needed it. LHIS implemented the Electronic record sharing (eRS) system and all GPs in LLR now enter data onto eRS. This data automatically shared with SCR (Summary Care record) and any services that have access to the SCR in real time, recording better quality healthcare records. If patients are admitted to A&E, all key information is there for the clinician/s immediately.
For example frail elderly patients do not need to be admitted for testing as they can be treated there and then, as all providers have access to the right information, saving money, saving time but also improving the patient experience and quality of their interaction with the NHS.
Mobile Device Management (MDM)
As we introduce more mobile technology into our estate, we needed to ensure all devices are secure, monitored and managed. LHIS met this need by installing MDM onto all our corporate mobile phones, iPads, iPods and other mobile tablets. This allows us to work with LHIS to;
• Define user profiles for different clinical needs to support mobile/agile working
• Push out CCG recommended or endorsed mobile apps to all clinical mobile devices
• Ensure all mobile devices met the appropriate NHS security standards, by applying regulare updates, versions and patches
• Wipe any lost or stolen mobile devices promptly, remotely, securely and safely, through logging a call with the LHIS support desk
GP Out of Hours (OOH) Hubs
Following a directive from the Department of Health (DOH) requiring GPs to provide extending primary care access for all service users, LHIS provided a solution to this by fully supporting the set up GP Out Of Hours Hubs, including a SystmOne unit to handle OOH data. We secured funding from a bid to the prime ministers challenge fund and this has now been successfully rolled out into the City and we are looking into a LLR wide rollout.

LLR Direct Bookable Appointments (NHS 111)
LHIS worked in partnership with the CCG's in order that NHS 111 can directly book appointments into primary and urgent care, using API's from SystmOne. Following a successful proof of concept of this working, we are now rolling out this piece of work across the LLR.
3. Added value offered
We also want to feel that we are getting additional value added from our providers and that they are passionate about supporting our clinical staff to deliver the best possible service to support the CCG to deliver our strategy as commissioners. Great examples of this have been:

Diabetes Prevalence.
It had been identified that we needed to improve our diabetes prevalence (recording of data). We obtained funding to ask LHIS to support us to achieve this. After consulting with the specialist team at LHIS, we agreed that we would fund IM&T facilitators to work with the practices to improve their data quality, by implementing improved standard business processes across the whole LLR community. Included in this work-stream, they worked on optimising general practice processes and suggested areas of improvement in clinical record keeping.
This has not only improved our record keeping for diabetes prevalence, but also ended up saving practice time and money. Historically, we have tended to employ our own temporary resources; in-house within the CCG to do this kind of work, usually at a greater cost. However in this example, LHIS pooled their existing resources of facilitators, shared their skills and knowledge across the team which meant for us, this proved a more cost effective service (provided at cost), utilising and drawing on a higher calibre of skills. More importantly this meant that the SystmOne and diabetes data recording knowledge was retained with LLR as LHIS simply move their staff onto other project based work once a project is complete. This allows shared learning's across the 3xCCG's and meant we were working in a more collaborative way in supporting the CCG 's commitment to support practices with optimising the use of their clinical systems and continuing to capture and record good quality data on their patient records. LHIS and the CCG's have since arranged (as part of our GP IT SLA) to provide continued resourcing to standardise our ways of working across all CCGs.
GP System Migrations: moving from EMISweb to SystmOne.
Our LLR strategy is to move to a single primary care system – LHIS have worked really hard to deliver on this, working with practices, managing the change and migrating the EMISweb practices across to SystmOne. This has really supported our vision to provide better quality record sharing with secondary care providers and a single healthcare record for our patients.
Decision
Because of the fantastic support, innovation and added value given to us by LHIS over the many years LHIS have supported our IT challenges and needs, we felt confident to pursue our IT support provision with LHIS for GP IT and also our CCG Headquarters, for a further three years, under a very similar arrangement that we had in place with our SLA.

WannaCry
It is worth noting that during the time we were having these conversations internally, the NHS was hit nationally by the WannaCry ransom ware attack. We were not affected at all by this Cyber Attack. Our NHS colleagues were pleasantly surprised to arrive into the workplace, having listened to the news on the way in that we were 'business as usual'. This was down to the stability of LHIS and their maturity in this line of speciality. This gave us conviction in our decision to continue to work with LHIS for the next 3 years.
Recommendations for others
We would recommend proactively benchmarking your IT support service provision, using similar evidence based decision making tools and using measurable metrics such as customer satisfaction, on a regular basis. Working within a stakeholder SLA arrangement such as what we have in place in Leicestershire, provides the flexibility and approach for the customers (or commissioners) of the contract to heavily influence the way in which the service is provided.
Case Study written with:
Tony Bentley – NHS Portfolio GP / IT Lead / CCG Governing Body GP Member
Tim Sacks – Chief Operating Officer